Tags
Bloomberg, border adjustment tax, China, inflation, manufacturing, metals, overcapacity, productivity, real value-added, steel, tariffs, trade law, Trump, U.S. Business and Industry Council, value-added taxes, {What's Left of) Our Economy
Well, there can't be any doubt about it now. President Trump's trade policy course changes – and especially his determination hike U.S. tariffs – are already harming American manufacturers and the broader economy. After all, this Bloomberg News post just told us so. Except if you examine it carefully, and add a little common sense info, there's no reason to believe any of these claims – especially for the manufacturing sector.
According to this Bloomberg report, "Confidence gauges spanning small businesses, factories and the public at large are coming off the boil as U.S. tariffs on imported metals — along with threats and counterthreats over Chinese goods — roil the stock market and cast a cloud over what was otherwise a bright economic outlook."
Manufacturers reportedly face especially serious threats:
"The Philadelphia Fed's index of business activity six months from now dropped 7.2 points to 40.7 in April, the lowest level since July. Earlier this week, a similar report from the New York Fed showed its future business conditions index registered the steepest one-month drop since the Sept. 11 terrorist attacks. Meantime, factories in both regions are reporting rising prices."
And Bloomberg conveniently provided a chart displaying these reported "rising costs amid tariffs on imported metals."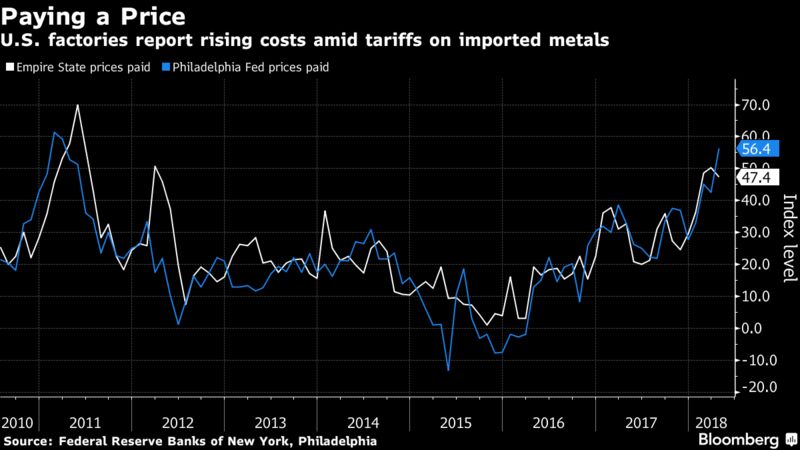 But the chart, and related macroeconomic data, actually represent compelling evidence that metals prices so far have had no discernible impact on U.S. manufacturing's fortunes. Consider the following:
As the chart shows, the prices paid by inputs for factories in the Northeast sank significantly between 2014 and 2015. Steel prices fell especially sharply (largely because the Chinese government was fueling a massive global glut in this metal).
And according to official U.S. data, how did American domestic manufacturing fare? It grew in real value-added terms ( a measure of output preferred by many economists) by all of 0.90 percent.
The following year, according to the chart, prices these factories reported paying stayed very low, but began rising. Steel prices rebounded significantly, too. Manufacturing's real value-added growth that year? About half the 2014-15 rate – 0.47 percent.
Those factory prices rose even faster the following year, and steel prices kept increasing. But the impact on America's domestic manufacturing wasn't exactly catastrophic. In fact, its annual real value-added growth nearly quadrupled – to 1.89 percent.
How on earth could this be? How about this as a starting point for an answer? Prices of steel or any other inputs aren't the only influences on business performance. And they're probably not the most important. For example, demand (aka "customers") matter, too. In the United States, when those metals prices were dropping sharply between 2014 and 2015, price-adjusted economic growth turned in a solid 2.90 percent growth. The following year, when metals prices stayed unusually low, the real economic growth rate halved. And guess what also nearly halved? Manufacturing's real value-added increase.
Even more interesting – between 2016 and 2017, when metals prices kept bouncing back, manufacturing's real value-added jumped. Maybe in part because the economy's overall growth rate increased by more than 50 percent, to 2.30 percent?
Looking at global growth (i.e., including foreign customers) yields similar conclusions. During that 2014-15 year of greatly reduced metals prices, pretty good U.S. growth but lousy manufacturing growth, the International Monetary Fund tells us that the global economy expanded by (a pretty poor) 3.10 percent. Chances are that feeble growth didn't help America's manufacturers, many of whom make much of their money by exporting.
Global growth only picked up to 3.20 percent the following year, but America's growth tanked. The latter, then, seems to have mattered more to domestic manufacturers, as their own expansion rate fell by 50 percent. Between 2016 and 2017, however, when both the U.S. expansion and the global expansion sped up (the latter to 3.80 percent), American  manufacturing's growth experienced that impressive takeoff. 
Now it's true that the Trump metals tariffs could inflict greater harm on U.S. domestic manufacturers going forward, as they could impose on metals-users new costs that come on top of whatever global prices they need to pay at a given moment.  Nonetheless, it's not like industry is exactly helpless to respond. For instance, it could start improving its productivity performance – which has been lousy on balance during this economic recovery. More productive sectors and companies of course can pass on input price increases without charging their customers more – and thereby undercutting their competitiveness.
At the same time, the metal-users' loud complaints about the Trump tariffs point to a longstanding weakness of U.S. trade policy and especially the related body of trade law that the President has needed to rely on so far because the chief executive's unilateral tariff-imposing authority is so limited. Because the trade law system, like U.S.-style legal systems generally, springs into action only when a specific complaint from private business is filed, its remedies are confined to that industry's predicament. Not even the few trade cases initiated by the Obama administration or even the Trump administration have changed this pattern. (The sweeping tariffs on China sought in the President's Section 301 intellectual property-centered action have come closest.) The tendency of such narrow-bore measures to enable foreign trade rivals to respond with divide-and-conquer tactics shows that two improvements should be made.
First, as proposed by my previous organization, the U.S. Business and Industry Council, industry-specific tariffs approved by the trade law system should be accompanied by similar protection for the "downstream" (i.e., user) industries. As a result, they would be much less likely to be victimized in the American market, anyway, by foreign competitors not saddled with higher input prices. 
Second, and even better, the administration should revive the Border Adjustment Tax that was part of the tax reform plan initially introduced by the House of Representatives' Republican leaders. This measure, which would have worked much like the foreign Value-Added Taxes (VATs) used by most trading economies, would not only have provided the equivalent of protective tariffs for all U.S. goods and services facing import competition.  It would have boosted the competitiveness of all American exports in all foreign markets by providing the equivalent of a subsidy.   
Although President Trump initially (and weirdly) was cool to the Border Adjustment Tax, reportedly more recently he's been changing his tune. Adopting this plan in particular could solve most of the economic as well as the political problems currently threatening his trade policies.